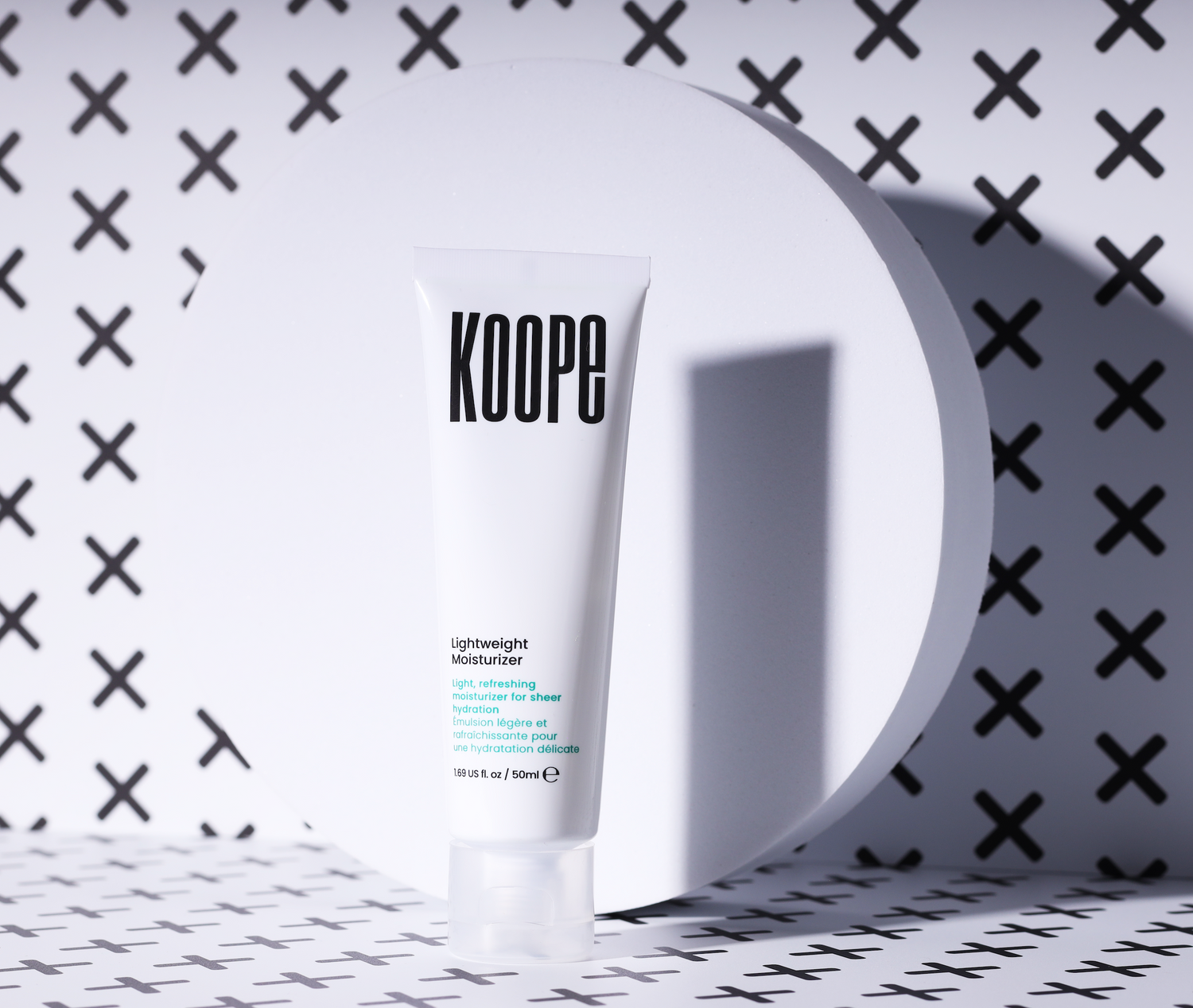 What's inside Koope?
Koope is formulated under European standards and regulations. This means that our 'free-from' list excludes 1400+ toxic ingredients banned in the EU, most of them not banned in the USA and Canada (#iknowright?).
We also exclude:
Fragrances, sulphates, sls/sles, parabens, formaldehyde, soaps, silicones, phthalates and 39 common sensitizers.
Key ingredients
key actives you'll find in our products
Ceramides, Hyalyronic Acid, Sodium Hyaluronate, Peptides, Niacinamide, Prebiotics Baobab Oil, Squalene, Vitamins A,C,E and F, Centella, Oat Amino Acid, Rosemary Extract, Olive Glycerides, Aloe Vera, Apricot Kernel Oil, Grape Seed Oil, various antioxidants.
Each Koope product has a minimum of 5 active ingredients.
Ingredient Dictionary
Find the definitions and purposes of every ingredient in Koope products below.
A-B

1,2 Hexanediol

A humectant that boosts antimicrobial properties of the formulation ingredients.

Acrylates/C10-30 Alkyl Acrylate Crosspolymer:

Thickener that loves water! Makes products feel nice and smooth, and keeps the formula stable, so it doesn't do anything funky like separate.

Actinidia Deliciosa Fruit Extract:

Kiwi Fruit Extract! It's super conditioning for the skin, is loaded with antioxidants and protects against pollutants.

Adansonia Digitata Seed Oil (Baobab Oil)

Baobab Oil, this super-ingredient packed with vitamins and antioxidants is used for regenerative abilities helping soften skin, support healthy moisture barrier, collagen preservation, prevent signs of aging, and fighting against free-radicals.

Allantion:

An ultra-soothing bi-product of uric acid, which is an antioxidant that your body naturally produces. It helps soften, protect and heal the skin.

Aloe Barbadensis Leaf Juice:

A fancy word (latin) for Aloe Vera! Aloe is very hydrating, soothing/healing and a powerful anti-inflamatory.

Alpha-Glucan Oligosaccharide:

Emolient (locks in moisture), forms a barrier on your skin to help keep it hydrated/reduces water-loss. It makes your skin supple and soft.

Amidinobenzyl Benzylsulfonyl D-Seryl Homophenylalaninamide Acetate:

A patented peptide derivative that improves skin resilience against external factors, helps restore dry skin, reduce roughness and skin's water loss.

Amylopectin:

Provides prolonged hydration and skin barrier benefits to the skin. Also can help bind and control the thickness of the product, so it's not too goopy.

Ascorbyl Palmitate

A powerful 'skincare superstar' a form of vitamin C that is an anti-oxidant, helps protect against free-radicals and stimulate collagen production.

Aqua:

Water!

Betaine:

Gently hydrating and helps the skin recover from moisture loss - balancing skin hydration. When used in a cleanser it helps make it mild and gentler.

Biolin:

A natural prebiotic derived from chicory, sugar beets and wheat that protects both normal and sensitive skin.

Biosaccharide Gum-1:

SMART' sugar (soothing, moisturizing, anti-aging, restructuring and touch), helps soothe and moisturize the skin

Butyrospermum Parkii (Shea) Butter:

A plant lipid from the karite tree, it is a rich emmolient, hydrator and source of antioxidants.
C-E

Caprylic/Capric Triglyceride:

Derived from coconut oil and glycerin, an excellent emollient, moisturizer and skin-replenishing ingredient

Carbomer:

Evens out the texture and consistency of products and stops it from separating (like oil and water).

Centella Asiatica Flower/Leaf/Stem Extract:

A powerful ingredient rich with Flavonoids, Amino Acids and Beta Carotene that has antioxidant, hydrating and soothing properties.

Ceramide NP:

One of our FAVOURITES, a type of Ceramide (things that keep our skin cells together), this helps keep skin barrier healthy, hydrated and improve overall look and feel.

Cetearyl Alcohol:

Not to be confuseD with other alcohols, this is a 'good' fatty alcohol used to soften skin, improve texture, stabalize products and carry other active ingredients. It is a non-aggrivating form of alcohol (can even be listed in 'alcohol-free' products).

Cetearyl Ethylhexanoate:

A lightweight ester (type of oil) that helps to soften and moisturise the skin effectively without feeling greasy or looking shiny on the skin.

Cetearyl Olivate:

A widely used emulsifier, stabalizer (keeps the product from separating) and cleansing ingredient. Overall, this ingredient can help improve the product's moisturizing cabability and give it a smooth, creamy texture.

Citric Acid

An AHA (alpha-hydroxy-acid) that helps exfoliate and clean pores. It also helps improve pigmintation (mild), shrink pore size and reduce fine lines and wrinkles. Citric Acid is full of antioxidants and helps rebalance the pH level of skincare products.

Cocamidopropyl Betaine

A synthetic fatty agent from coconut, it's a gentle cleansing agent to help remove dirt and oil from the skin.

Coco-Caprylate

A coconut-derived fatty alcohol (non-drying) that helps soften and moisturize skin

Crosspolymer

A thickening, texture enhancer and emulsifier (softens and moisturizes) that helps to improve the product stability and texture.

Cucumis Sativus Fruit Extract

Cucumber extract! Antioxidant, anti-inflamatory, soothing and skin conditioning.

Ethylhexyl Hydroxystearate

An effective emollient that softens to skin and forms a protective layer to help retain moisture and keep skin feeling supple and hydrated. Can protective layer on the skin to help prevent harmful stuff.

Ethylhexylglycerin

Helps preservatives do their job so that products don't spoil.
F-I

Fructose

Fruit sugar! Might be bad for your waist line, but great for your skin! It has water binding ability to help keep your skin nice and hydrated.

Glucose

Sugar! Not so good when you eat it. Great when used on your skin, it contains water-binding properties to help keep water/moisture in your skin.

Glycerin/Glycerine (palm free)

Helps draw in and hold. Moisture into the skin, the same way as the skin's own natural moisturizing factors (NMF).

Glyceryl Stearate

A naturally derived fatty acid used for skin conditioning, emollient, thickining and soothing functions.

Helianthus Annuus (Sunflower) Seed Oil

A fancy name for sunflower seed oil! Helps to replenish and nourish skin. It has tons of beneficial fatty acids that work to help rebalance dry, dehydrated or environmentally stressed skin.

Hyaluronic Acid

Powerful humectant (brings moisture to skin surface), retains moisture up to 1000x it's weight. It reduces appearance of wrinkles, speeds healing, replenishes skin, makes your skin feel nice, has anti-aging benefits… what more do you need to know?!

Hydrogenated Vegetable Oil

An emollient that softens and moisturizes the skin, and enhances texture.

Hydrolyzed Algin

From brown algae that is anti-inflamatory helps regulate sebum, is anti-bacterial, healing and mattifying.

Inulin

A prebiotic, reduces bacteria growth and keeps friendly microorganisms happy.
J-P

Jojoba Oil

A light weight oil that helps to moisturize, restore and replenish skin and can provide topical skin-soothing benefits. Not to be confused with Jojoba wax!!

Lactic Acid

An AHA (alpha-hydroxy-acid), helps with dull and uneven complexion, exfoliation and strenthens skin barrie. Also can help encourage skin microbiome to produce ceramides (everyone needs ceramides). Can be firming, reduce fine lines/wrinkles and works well with other hydrating agents (like Hyaluronic Acid).

Leuconostoc/Radish Root Ferment Filtrate

A probiotic preservative that is moisturizing, anti-fungal and anti-microbial.

Linoleic Acid

Vitamin F (and what we think is a hero ingredient), provides moisture, helps protect and repair the skin's barrier, locks in hydration and soothes the skin.

Lithothamnium Calcarum Extract

Algae extract that is rich in calcium carbonate and has antioxidant and soothing properties. This is a key component of a blend that delivers improved hydration and skin barrier improvement (helps fight against nasty environmental factors), both short and long term.

Maltodextrin

Skin-softening, absorbant stabilizer and binding agent (keeps it all together), also used to carry other ingredients.

Myristyl Myristate

Emollient excellent for dry skin, also helps to enhance product texture.

Niacinamide

(Vitamin B3 and nicotinamide) can help to hydrate, protect skin from pollutants/environmental damage, used to help improve uneven skin tone, dullness and fine lines.

Olive Glycerides

An emollient (softens and moisturizes) that has similar composition to your own skin lipids. It is a dry oil that is soft and velvety, it's non-greasy and helps products penetrate into the skin, carry active ingredients and 'keeps it all together'.

PEG-100 Stearate

An emulsifier that improves texture, thickens and helps keep products together.

Pentylene Glycol

Stabilizer and solubilizer that helps to keep ingredients safe and stable, and to deliver them on the skin.

Phenoxyethanol

A widely used (globally) preservative, it keeps bad gunk away from growing or getting in your product, and holds it together.

Phospholipids

Known as a 'second skin', and emollient that works to attract and hold water, improve barrier function, and reduce irritation.

Polysorbate-60

Texture improver and keeps ingredients from separating.

Potassium Sorbate

A mild and widely used preservative. Stops bad gunk and bacteria from growing or getting in your product.

Propanediol

Hydrator that helps smooth and improves ingredient absorption.

Prunus Armeniaca (Apricot) Kernel Oil

A lightweight oil that is inflammatory, supports the skin barrier and locks in moisture
R-S

Retinyl Palmitate.
A powerful 'skincare superstar' a form of vitamin C that is an anti-oxidant, helps protect against free-radicals, can help stimulate collagen production and reduce hyperpigmentation.

Rosmarinus Officinalis (Rosemary) Leaf Extract
A powerful antioxidant and skin protectant, rosemary leaf helps soothe and calm skin.

Simmondsia Chinensis (Jojoba) Seed Oil
Also called jojoba oil, a commonly used oil that absorbs will into the skin, helps to moisturize, restore and replenish skin.

Sodium Benzoate
A mild and widely used preservative (stops bad gunk and bacteria from growing or getting in your product).

Sodium Gluconate
A chelating agent helps to mop up any impurities and boost the preservative system to help protect the product from contamination.

Sodium Hyaluronate

Similar attributes to Hyaluronic Acid (holds many, many times it's weight in moisture, commonly used to help combat dry, dehydrated skin, fine lines, texture and superficual aging) it has a low molecular weight meaning it can penetrate into deeper layers of the skin than larger molecules.

Sodium Hydroxide

Used to keep the pH of a product balanced to optimal point.

Sodium Lactate
Hydrating and used to adjust pH level of a product

Sodium Lauroyl Oat Amino Acids
Derived from oat protien, it is a gentle ingredient used to help sooth and soften skin.

Sodium PCA
A humectant (attracts water) that helps moisturize the skin

Sodium Phytate
Product stabalizer (helps products keep stable for longer)

Sodium Stearoyl Glutamate
A gentle moisturizer and emulsifier (keeps oil and water ingredients together)

Sorbitan Olivate
A widely used emulsifier, stabalizer (keeps the product from separating) and cleansing ingredient. Overall, this ingredient can help improve the product's moisturizing cabability and give it a smooth, creamy texture.

Stearic Acid
A stabalizer (keeps it all together) emulsifier, emollient, and lubricant that helps soften skin.

Squalene
Lightweight oil that is a natural emollient (moisturizer) and antioxidant and anti-inflamatory. Yep, pretty awesome.
T-X

Tetrasodium EDTA
Product stabalizer (helps products keep stable for longer)

Tetrasodium Glutamate Diacetate
A chelating agent (helps ingredients to bond and formula to keep stable).

Tocopherol
Vitamin E!

Trehalose
Plant-derived sugar that helps hydrate the skin

Urea
A fantastic natural moisturizing factor, it helps skin hold water. Can help plump the skin, improve elasticity and barrier function.

Vitis Vinifera (Grape) Seed Oil
Strong antioxidant and hydrator that is lightweight and non-greasy

Xanthan Gum
Stabiliser and solubiliser that helps to keep ingredients safe and stable, and to deliver them on the skin.